Explore our pressure washing services
Pressure Washing Pricing At-A-Glance
Clean* (based on 2,500 sqft home)
Includes: Soft Wash Entire Home Surface Clean Driveway/Front Walkway
---
$742.50 (Clean Club (10% off))
Super Clean* (based on 2,500 sqft home)
Includes: Soft Wash Entire Home Surface Clean Driveway/Front Walkway Surface Clean Porch/Deck Exterior Window Cleaning
---
$1192.50 (Clean Club (10% off))
Pristine Clean* (based on 2,500 sqft home)
Includes: Soft Wash Entire Home Surface Clean Driveway/Front Walkway Surface Clean Porch/Deck Exterior Window Cleaning Gutter Cleaning Roof Washing
---
$1890 (Clean Club (10% off))
We clean pavers, stone, concrete, asphalt surfaces and more with our high-pressure, high-temperature cleaning system to make your surfaces look like new.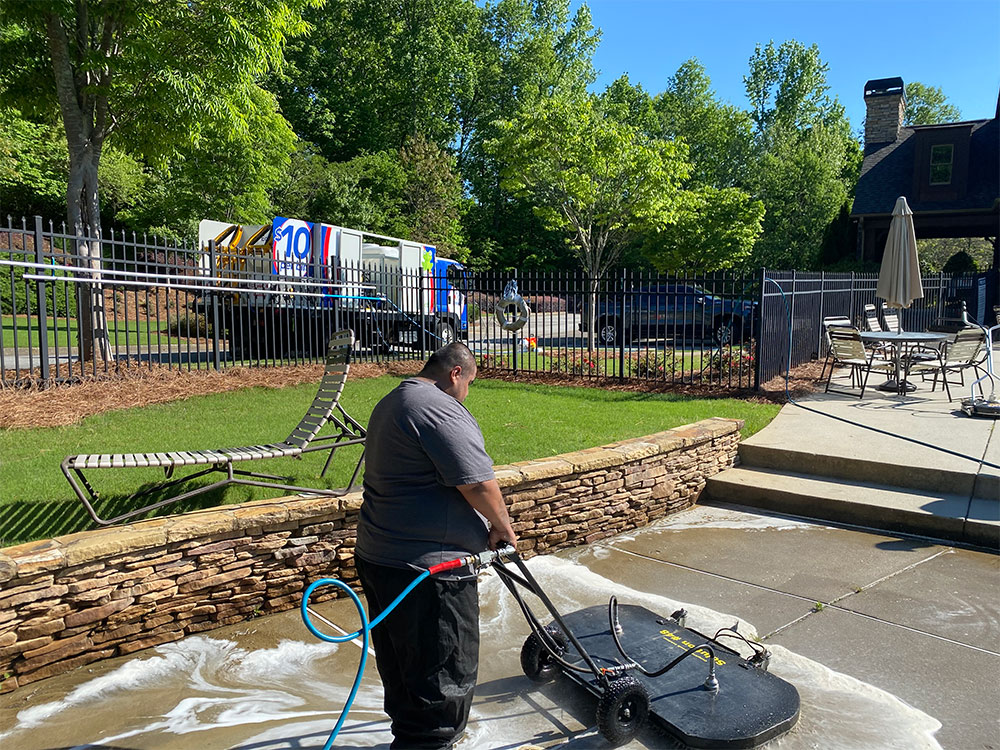 Our mobile pressure washing system cleans dirt, grime and stains while capturing almost all wastewater.
Perfect for storefronts, buildings, driveways, parking lots, sidewalks or almost any surface made of concrete, brick, stone or pavers.
We can clean playgrounds, club houses, grocery carts or any other "high-contact" surface for customers or employees.
We can clean your decks too. Our experts know just the right amount of pressure to use to restore your surfaces.
"House looks amazing!! Your team did a great job! And the sidewalk…! It's night and day - so much brighter! Most importantly, my little one can safely enjoy the screen porch without fear of his allergies bothering him! My bins: perfection. So clean and smells amazing! Look forward to the next bin cleaning and power wash!"
"Top notch. Love the "before and after" shots. Have a great day!"
"We also made use of their pressure washing of our driveway - I didn't even realize how dirty it was until they finished the job. What a transformation! And our stucco house, which gathers a lot of mold, was pristine after they finished with their soft cleaning technique. The employees are a pleasure to work with, courteous and on time. I highly recommend them!"
"They also offer soft washing for houses/driveways etc which is less abrasive on the surfaces with superior results than traditional pressure washing. Jeff and his team are always in the best mood, on time and provide incredible results. Thanks, UBC for taking a few things off of our home maintenance checklist!"